MODULE 2: Working with ABI
n) Pathways for life after ABI (including rehab, community... )
i) Unique individuals mean that service pathways are unique.
Service pathways vary from one person with ABI to another. To understand an individuals' service pathway it is useful to understand:
a) The person's injury and their personal journey of recovery and rehabilitation
b) Typical service pathways
c) Typical funding pathways for rehabilitation and support services
At the same time staff need to be aware of:
typical service pathways
local barriers to pathways
strategies for dealing with pathway barriers.
An example of a typical personal journey of recovery and rehabilitation pathway: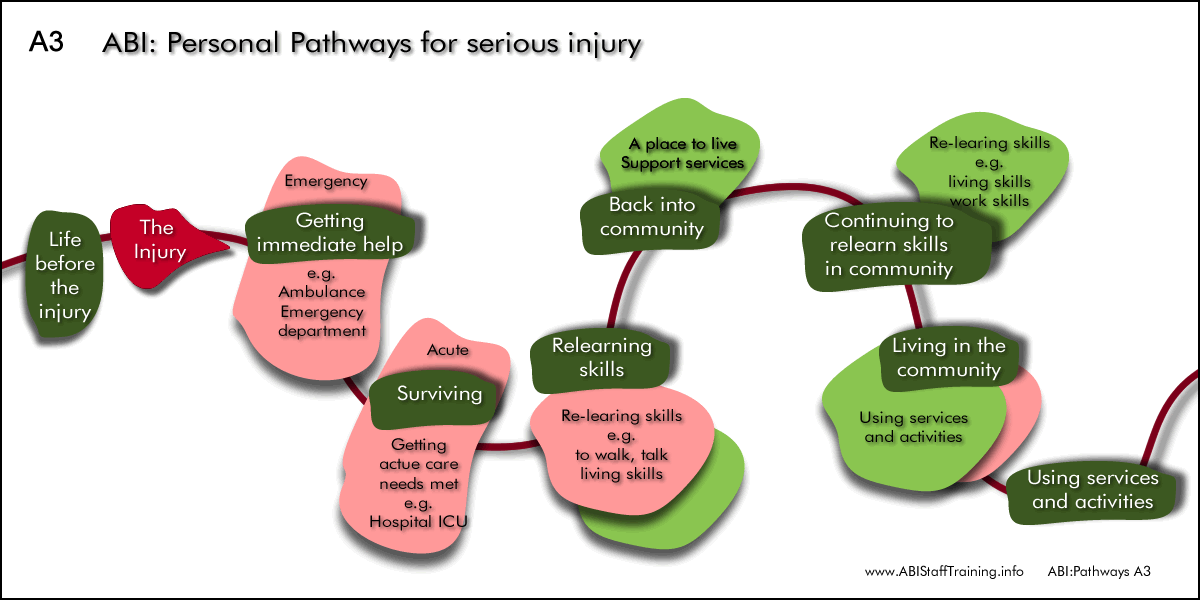 An example of a typical service pathway:

Rules of thumb
1. Be familiar with tyical pathways..
2. Identify referral contacts and access options.
3. Identify local barriers.
4. Identify strategies for dealing with pathway barriers.
5. Liaise with insurers when they are involved.
A case manager said:
I guess my role as a case manager is to coordinate the rehabilitation program for my clients that are referred to me and as well as to be once they are discharged into the community to be the contact person.
I think it can be a very confusing time for the client because they are going into the community where they were pre-injury but they've got the issue of disability to cope with. They have got a new lifestyle and they have got ongoing therapy and appointments so we become like a guide for the clients to assist them through that process.
Initially there will be a lot of appointments ... therapy over a period of time that will slow down... slowly they will reach a level of stability in the community where there will be less medical and therapy intervention and we will just stay with them until they get to a point where they feel they are able to cope independently, knowing that they can come back and receive services if needed.
What its like varies with level of the injury.
So for some people it can be six months to one year because they will quite often be returning to work and will be able to do some sort of pre-injury work or modified suitable duties and with family support be pretty independent.
Others of them will need longer term care just to do their basic activities of daily living.
ii) Pathways: Funding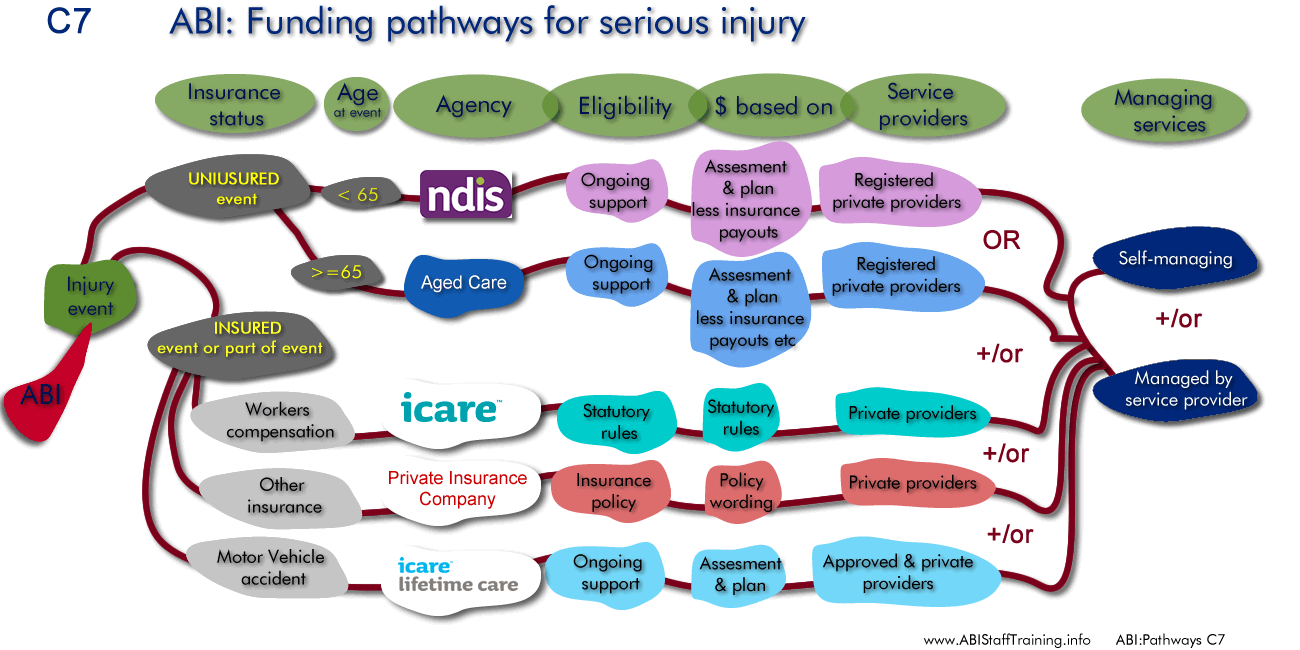 What is the insurance status of the injury event and the person's age at the time of the injury?
The insurance status and/or age at the injury event will determine what sources of funds you are entitled to.
Many injury events are covered by insurance, for example:
Workers compensation
Insurance policies such as income insurance, disability insurance, public liability insurance.
Motor vehicle accident insurance
If the injury event is covered by insurance you may be entitled to insurance payouts from the relevant insurance.
Irrespective of these insurance payouts everyone is covered by the National Disability Insurance Scheme (NDIS) and/or Commonwealth Governments Aged Care Programs including the Commonwealth Home Support Program.
If the age at injury is less than 65 the NDIS applies. If the age at injury is 65 or more the Aged Care Programs apply.
The payments and services provided through the NDIS and Aged Care Programs may be adjusted where the injury event is specifically insured and there are insurance payouts to the person with the ABI.
What are the agencies involved?
In an injury event that causes an ABI it is possible for many agencies to be involved.
For some people there will only be one agency involved, e.g. the National Disability Insurance Scheme.
NDIS
The National Disability Insurance Scheme (NDIS) provides support for Australians with disability, their families and carers. The NDIS supports people with disability to build skills and capability so they can participate in the community and employment. The NDIS helps people with disability to:
Access mainstream services and supports
Access community services and supports
Maintain informal support arrangements
Receive reasonable and necessary funded supports
Commonwealth Aged Care Programs
There are aged care programs to support people living independently in their homes and to provide alternatives where they are unable to continue living independently in their own homes.
The Commonwealth Home Support Programme (CHSP) helps older people stay independent and in their homes and communities for longer. The CHSP provides entry-level home support for frail older people who need assistance to keep living independently.
A range of care options and accommodation are available for older people who are unable to continue living independently in their own homes. Residential aged care in Australia is subsidised by the Commonwealth Government and is governed by the Aged Care Act 1997 (the Act). Residential aged care provides a range of care options and accommodation for older people who are unable to continue living independently in their own homes. The type of care provided ranges from personal care to assist with activities of daily living through to nursing care on a 24-hour basis.
icare
In NSW icare is responsible, among other things for workers compensation insurance. Other states and territories have their own agencies.
Private insurance companies
There are many private insurance companies and types of insurance that may be relevant to insurance related to an injury event causing an ABI.
Types of insurance, for example, include income insurance, disability insurance, public liability insurance.
icare lifetime care
icare's Lifetime Care scheme pays for treatment, rehabilitation and care for people who have been severely injured in a motor accident in NSW. It's a no-fault scheme. This means they provide support regardless of who was at fault in the accident, as long the eligibility criteria for both the motor accident and the injury are met. Severe injuries that may be eligible for the Scheme include: Spinal cord injury, brain injury, amputations, burns, permanent blindness.
What are the eligibility criteria?
What will the funding be based on?
Who provides the funded services?
How are services managed?
iii) Clip 13 : Jonathan & Mother : The Story (7 min)
Jonathan's mother (& Jonathan) talking about what happened - the impact, rehabilitation, etc
Answer the following question:
What are the stages in Jonathan's pathway?
Check your answers here
Prior to injury
Jonathan was 12 years old at the time and he was your average normal bright and boisterous boy and he loved playing outdoors and riding his bike and skateboarding and all those things.
He could play three musical instruments. He could – he was a high achiever at school and multi-talented.
Injury and intensive care
He was just crossing the road at the end of our street to come home on a Sunday afternoon and he stepped out in front of a car speeding down the hill and he was tossed some 20 metres in the air.
He wasn't expected to survive. And then we were told that if he did survive, because he was 3 on the Glasgow Coma Scale he would most likely remain in a vegetative state or to quote the actual neurosurgeon's words: he is unlikely to regain any previous function.
Very negative prognosis.
He was then in – he was in intensive care for about three weeks
Sydney's Children's Hospital
He was in Sydney Children's Hospital for about five months and um we were told, because his PTA – post traumatic amnesia – was immeasurable that um his prognosis was a very poor one.
And that was even at five months, they still couldn't get a number on – you know measure that.
Home program and hospital outpatient's
We brought him home at that time against probably medical advice and because services were being cut back and we felt we needed to do more because he was just beginning to respond and I started to do some research of my own, and look into different sensory stimulation, programs and things like that and we combined probably for the next couple of years an eight hour a day home based physiotherapy and occupational therapy and speech retraining program.
We virtually made one up as we went but we incorporated all the good resources available through the outpatient system at the hospital. But again that was limited. And we live in traffic a fair way from that hospital in particular, it was an hour and a half each way in traffic in peak hour. So um, home and finding things close to home became very important.
15, 16 years of age children's/adult hospitals & school
Around that age it became apparent that he didn't – we were discharged from the Children's Hospital but he wasn't able to go to an adult brain injury unit because he wasn't 18 yet.
So we didn't fit in anywhere. We had this huge problem, one that I am still coming across today with other families.
So I needed – we needed the best of both worlds I suppose, so we needed to find really well trained physiotherapists in acquired brain injury and it so happened that it just leapt out at me that there was rehab hospital in Melbourne that was willing to take him as an outpatient and give us a program of therapy that we could adapt and so we started going to Melbourne every three months.
He was already back at school, ... sort of a gradual return to school beginning with one day a week and then progressing to sort of five mornings a week. He only ever went the five mornings a week even right up to Year 12 because there is still so much to do with his physical and cognitive rehabilitation that school became more of a social um, and emotional, spiritual sort of building of the person, rebuilding of the person that he was.

iv) Steve 1 Experience of Injury and Rehabilitation (2 min)
Steve describes his experience of his injury and rehabilitation pathway
Answer the following question:
Insert Question

Steve 2: Return to work (3 min)
Steve describes return to work.
Answer the following question:
Insert Question
Steve 3 Self - Determination (2 min)
Steve descirbes the key ingredient.
Answer the following question:
Insert Question
v) Services
There are many servidces that can be part of the pathway:
Information and referral services
Rehabilitation services
Housing NSW
Mental Health services
Drug and Alcohol referral options
Lifetime Care and Support Scheme
NDIS
Corrective Services NSW
Centrelink
Schools
TAFE
GPs
Recreation services
Self help groups
Local service clubs (for outings and social contact)
vii) Questions
Answer the following questions:
A 28 year old single female has had a moderate traumatic brain injury from a car accident. She was living by herself before the injury. 12 months after the injury she is not able to live by herself.
What are some of the steps in her service pathway likely to have been.
Check your answers here

Acute hospital bed
Brain Injury Rehabilitation Unit
Transition to Living Unit
Discharge planning & discharge
Insurance negotiations
Living with family or in Supported accommodation
Assessments and review (e.g. physio, speech, neuropsychological etc as needed)
Social rehabilitation services (e.g. recreation, vocational options etc as needed)
Support services (e.g. in home cleaning, etc as needed).